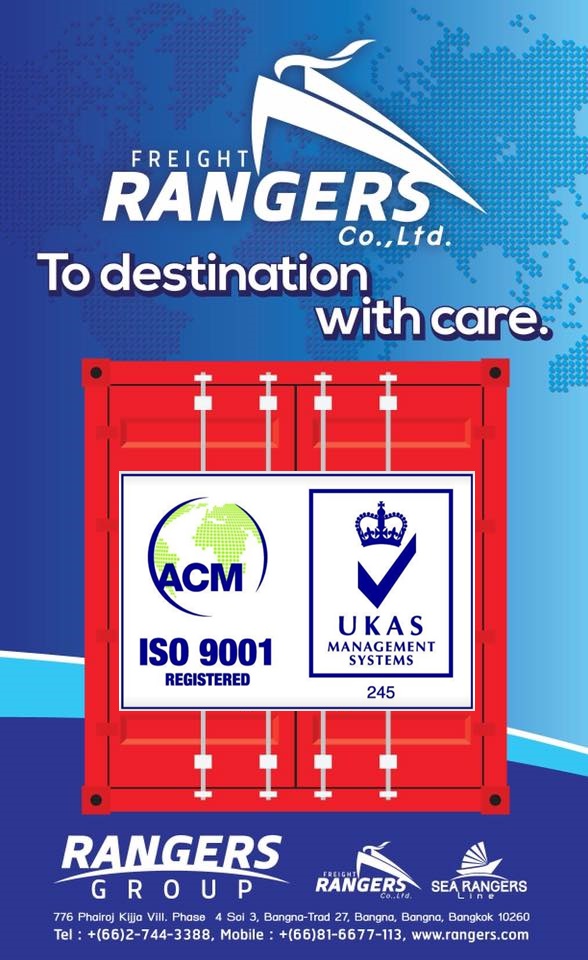 Freight Rangers Co.,Ltd.
"Thailand" National Gateway to ASEAN
We are ISO 9001 Version 2015 certified, providing guaranteed transparency and quality of service, available 24/24 and 7 / 7 to answer all your requests in the whole world. With more than 10 years' experience in the logistics business, we are in an excellent position to help you.
We are pleased to introduce Freight Rangers Co.,Ltd. as a reliable and reputable company in total logistics. Our policy is simply to provide timely, trustworthy and cost-compromised total logistics to all our customers.
We seek to distinguish ourselves by providing the most flexible and reliable customer service at any point of time.
Besides, our global agency networks enable our customers to benefit from a package tailored to their individual needs and time requirements.
A dynamic, energetic team of experienced freight forwarding professionals converging to form a company that sets a new standard in service and professionalism.
KEY PERSONNEL
PRESIDENT /CEO: MR.RAVINRAD SIGNHA
MANAGING DIRECTOR: MR. ASAWANEE PANDEY
OPERATIONS MANAGER: MS. CHANIDAPA SUKSA-NGA
SALES MANAGER: MS. ANYUPA LERTWONGMETHA
FINANACE MANAGER: MS. SOMSONG THONGTAN