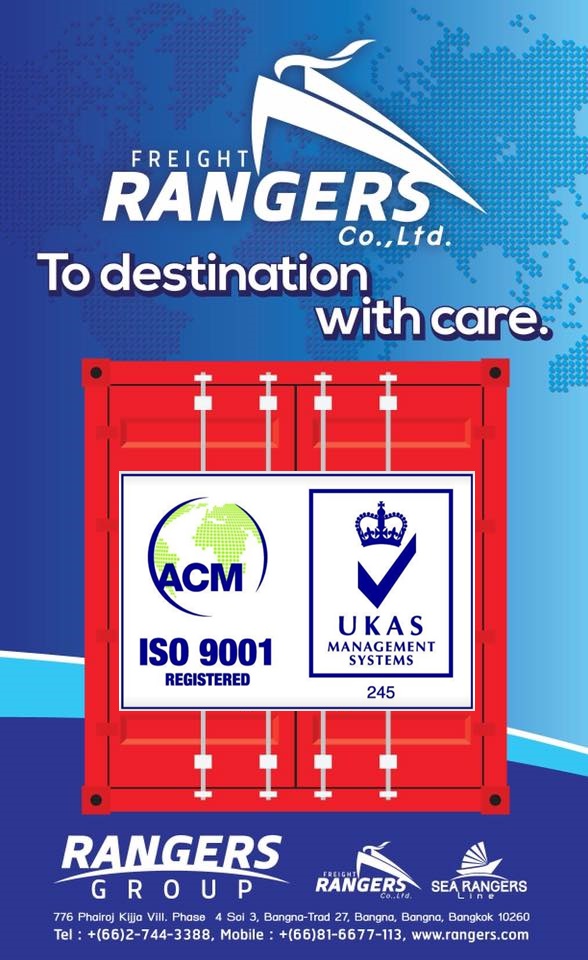 Freight Rangers Co., Ltd. is based in Thailand, which acts as a gateway for ASEAN countries.
We are ISO 9001:2015 certified and provide guaranteed transparency as well as top-notch service – we're ready and available to answer any questions you might have, 24 hours a day, 7 days a week. With more than 10 years of experience in the logistics business, we are in an excellent position to help you get your product from A to B.
We are pleased to introduce Freight Rangers Co., Ltd. as a reliable company offering total logistics solutions. It is our promise to deliver efficient, timely, and cost-effective logistic services to all of our customers.
We are proud to set ourselves apart from the competition by providing dependable and flexible customer service, 24/7.
In addition, our global network enables us to offer custom packages, tailored to our customers' individual needs and time requirements.
We are a dynamic, energetic team of experienced freight forwarding professionals that have joined together to establish a company that is setting new standards in both service and professionalism.
KEY PERSONNEL
PRESIDENT/CEO: MR. RAVINRAD SIGNHA
MANAGING DIRECTOR: MR. ASAWANEE PANDEY
OPERATIONS MANAGER: MS. CHANIDAPA SUKSA-NGA
SALES MANAGER: GRACE SUTIBONGKOT
FINANACE MANAGER: MS. SOMSONG THONGTAN